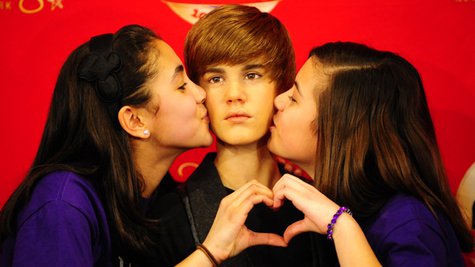 Justin Bieber 's personal life has been a mess lately, and apparently his wax figure at Madame Tussauds New York is also having issues.
Staffers at the Manhattan attraction tell the New York Post they've been forced to remove Justin's wax likeness from public display because it's been damaged by thousands of Bieber fans groping, fondling and grabbing the figure.
The wax figure was unveiled several years ago during what was a more innocent time for the young singer. One source tells the newspaper, "With no ropes or barriers to stop them, thousands of fans have had their photographs taken with him since then -- but it has taken its toll."
Madame Tussauds tells the Post that despite regular maintenance, the 19-year-old pop singer's wax likeness has been damaged to the point where "it no longer does justice either to the star or to the attraction." For that reason, they've reluctantly decided to remove it.
Madame Tussauds general manager, Bret Pidgeon , calls the turn of events "disappointing," but adds, "Hopefully we can welcome a new 'grown-up' Justin back to the attraction in the near future."
Copyright 2014 ABC News Radio