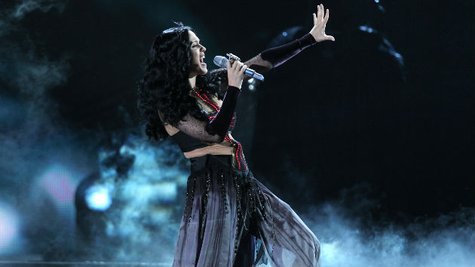 Katy Perry and Rihanna are friends, and now they both share the same Billboard chart record.
Katy's latest hit, "Dark Horse," has risen to #1 on Billboard's Pop Songs chart, which is based solely on radio airplay. It's her 11th number one on that chart, matching the all-time record set by Ri-Ri in December with her Eminem collabo, "The Monster."
Katy's first #1 on the Pop Songs chart was "Hot N Cold," back in 2008, and since then, almost all her singles have gone on to top the chart, including "California Gurls," "Teenage Dream," "Firework," "Wide Awake," and "Roar."
After Katy and Rihanna, Pink is next on list of all-time leaders on the Billboard Pop Songs chart with nine #1s. Lady Gaga has seven, and Beyonce , Mariah Carey , Maroon 5 , Bruno Mars , Britney Spears and Justin Timberlake are all tied for fifth place with six. The Billboard Pop Songs chart has been around since 1992.
Copyright 2014 ABC News Radio