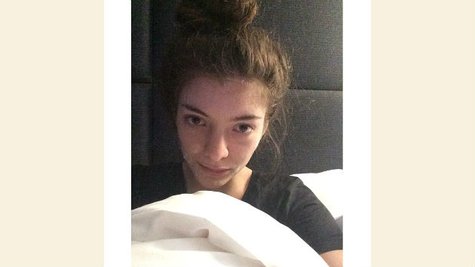 L orde may be a best-selling, Grammy-winning star who's one of the most acclaimed artists out there today -- but she's still a teenager, and that means she still has zits. Unlike many other celebs, however, the singer's not afraid to own up to her skin problems, and has posted the evidence for all to see.
On Instagram, Lorde, who prefers to go by her birth name Ella Yelich-O'Connor when she's offstage, has posted a photo of herself sitting in bed with no makeup on, and white zit medicine dabbed all over her face. " [I]n bed in paris with my acne cream on ," she captioned the selfie.
As for why Ella would be so open, perhaps her subsequent posting on Instagram offers a clue. It's a close up of a page from a recent Vogue interview with Girls creator Lena Dunham , in which the Emmy-winner talks about an observation her boyfriend, Jack Antonoff of fun. , once made.
Lena tells the magazine, "He's like, 'You know what's hard? People want the person who wants to share it all. But they want the person who wants to share it all, minus the foibles and mistakes and f**kups. They want cute mistakes. They don't want real mistakes.' If I placed that many censors on myself, I wouldn't be able to continue to make the kinds of things that I make."
Lorde captioned the photo of this excerpt, "f inally read @lenadunham 's vogue piece and this REALLY resonated with me."
Copyright 2014 ABC News Radio