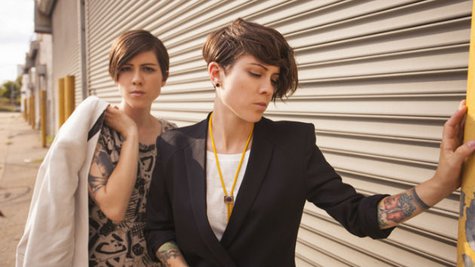 If you saw The Lego Movie over the weekend -- and millions did, judging from the box office numbers -- you probably can't get the movie's theme song, "Everything Is Awesome," out of your head. Well, just imagine how Tegan and Sara feel. A while back, the Canadian twin duo recorded a official version of the tune for the movie's soundtrack with Andy Samberg 's comedy group The Lonely Island , and they've haven't been able to stop singing it since.
"It has been in our heads for two months!" laughs the duos' Sara Quin . "We use it as a joke now backstage. It's constant. Every time something good happens one of us in the band or crew just starts singing 'Everything Is Awesome.' We have many different versions of it now because it's so addictive."
The duo say the people behind The Lego Movie invited them to record a version of "Everything Is Awesome" and to entice them to say yes, they were shown a very small part of the animated film early on. That, says Sara, is what sold them on it.
"Honestly I think I would've said yes no matter what," she tells ABC News Radio. "But once we saw the first five minutes of the film, we were laughing, we were delighted, we couldn't wait to see the rest, and we were very honored to have been asked to do a version of it." And now that the movie's a giant box office hit, they're even happier they said yes.
"I feel bad sort of riding the coattails of this film. And then on the other hand, I'm so excited to be riding the coattails of this film, because it's getting such amazing reviews!" laughs Sara. "I love the idea of us being associated with something positive and smart and funny. And I love that it can be something for both younger people and adults."
The only drawback is that, believe it or not, Tegan and Sara have yet to see the entire movie. "I'm going on Wednesday. I'm so excited to see it," Sara reveals. "The more that our social media blows up, like...obviously so many people went and saw the film. And I feel very left out right now that I haven't seen the whole thing!"

The Lego Movie, starring the voices of Chris Pratt , Elizabeth Banks , Will Ferrell, Will Arnett , Morgan Freeman and many more, took in more than $69 million at the box office over the weekend, and has received uniformly rave reviews. The soundtrack, featuring Tegan and Sara and The Lonely Island's version of the song, is in stores today.
Copyright 2014 ABC News Radio