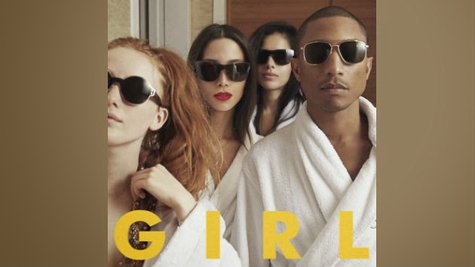 While Pharrell Williams hasn't officially confirmed the track listing for his new album G I R L , a group of journalists in the U.K. got a listen to the disc this week and they're spilling all its secrets. Vice magazine has published a track-by-track review of the disc, and revealed that the guest artists include Daft Punk , Justin Timberlake, Alicia Keys , and Miley Cyrus .
According to the magazine, Justin appears on a song titled " Brand New," which it describes as similar to the sound that Pharrell and Justin created for Justin's debut solo album, Justified . As for Miley, she's featured on a track called "Come Get It." Her appearance isn't a surprise, considering that Pharrell worked on her album, Bangerz.

Also not a surprise is the presence of Daft Punk on the record: after all, Pharrell did sing lead on the duo's Grammy-winning hit, "Get Lucky." According to Vice , they appear on a track called "Dust of Wind." Alicia, meanwhile, pops up on the song "I Know Who You Are," which Vice describes as sounding like something Pharrell and his production partner Chad Hugo, aka The Neptunes , could have produced for her in the 2000s.

There are similar listening sessions for G I R L scheduled to take place in the U.S. in the next few days.
Copyright 2014 ABC News Radio