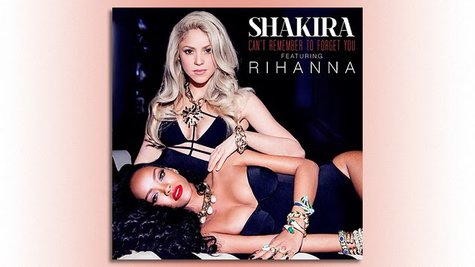 Shakira 's new, self-titled album -- her first collection of new English-language material since 2009 -- will be out next month, but it's already produced a hit in its lead single, "Can't Remember to Forget You." The track is a dream collaboration between Shakira and Rihanna , and Shakira says because of the song's island feel, nobody else possibly could have done it properly.
In a video interview with VEVO , Shakira says of the song, "It's very reggae and has a lot of a vintage feel at the same time. [Rihanna's] voice in this song is just unreal because she is reggae." She raves, "I don't think I ever heard a female singer deliver her lines in a reggae song with such authenticity."
Shakira is equally excited about the new record, because she says it's been so long in the making. Why? Well, as she explains, it was a combination of things happening in her personal life, and her own perfectionism.
"It took me a while to get to a point where I was completely happy about this album and sure about every song in it. It just takes time," she says. "It's been hard to make an album with so many distractions, like having a baby in between, you know, and having to come back to America so many times to do The Voice ."
After so many years in the business, you'd think that by now, Shakira would be confident enough in her own ability not to worry about what people are going to think of her new music. But instead, she's quaking in her boots like a contestant on The Voice waiting for someone to turn a chair around.
"It is completely nerve-wracking, I mean it's always the same feeling, the same butterflies in your stomach," she laughs, talking about the process of releasing new music. "You never know how your body of work is going to be received." But what she is confident about, she says, is that the album represents her artistic vision.
"At the end of the day, I feel that I have an album that is exactly the album that I wanted to have," she says. " You know, it took me a while to be that happy with the album, but once I got there, I was extremely, extremely happy."
SHAKIRA . -- the album -- will be in stores March 25.
Copyright 2014 ABC News Radio