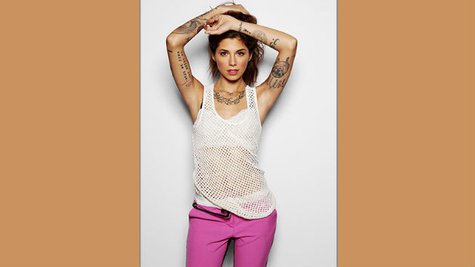 Christina Perri has just released the video for her new single, "Human," from her forthcoming album head or heart , and it seems to question whether or not Christina is truly human at all.
In the simple clip, Christina is shown barefoot, wearing a black two-piece bathing-suit type outfit, and sitting on top of a white pedestal in a white room. Lights flash on and off, and there are quick cuts to what looks like some sort of high-tech gears and machinery, and for a second, her body appears to be mechanical.
When Christina gets to the chorus, she stands up, sings, steps off the pedestal and starts walking. As the lights flash, and she sings the words, "I can turn it on/be a good machine," her leg appears to be mechanical for a moment. As the song continues, the same thing happens with her arm and her torso. As the song finishes, she's back on the pedestal, singing in a shower of sparks.
So, is she human or is she a robot? It's never made clear. Christina tweeted, "everything in this video is on purpose. i wrote it...it tells a story. figure it out."
Christina has now confirmed that her new album, due March 11, features a duet with Ed Sheeran , titled "Be My Forever."
Copyright 2014 ABC News Radio