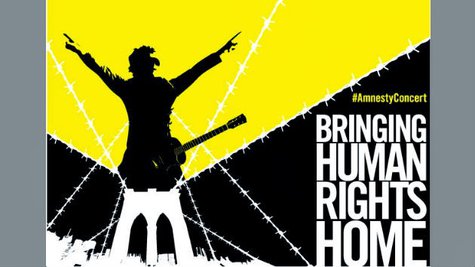 Amnesty International, the global human rights organization, is continuing its tradition of star-studded benefit concerts with a show planned for February 5 in Brooklyn, NY. Among those on the bill: Colbie Caillat , The Fray , Imagine Dragons and Tegan & Sara.
Dubbed Bringing Human Rights Home , the musical extravaganza, which will take place at the Barclays Center, will also feature Lauryn Hill and alt-rockers The Flaming Lips , among others. Tickets for the show will go on sale on Saturday via Ticketmaster. Visit AmnestyUSA.org for more information.
In a statement, Imagine Dragons frontman Dan Reynolds said of his band's participation, "Amnesty's past concerts have featured some of the greatest artists of our generation and have been catalysts for real, measurable change. It's an honor to perform as part of this event and continue the cause of championing human rights around the world."
From 1986 to 1998, Amnesty International held 28 editions of its Human Rights Concert series around the globe to raise awareness about human rights. Artists who have taken part in previous installments of the series include U2 , Sting , New Kids on the Block , Alanis Morissette , Tracy Chapman , Shania Twain , Bryan Adams , Bruce Springsteen and Peter Gabriel .
Copyright 2014 ABC News Radio