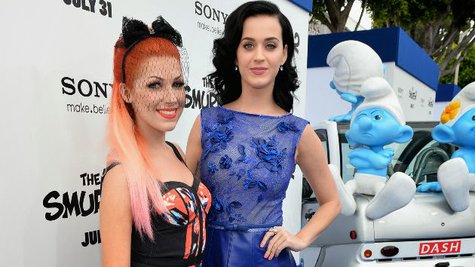 Katy Perry 's "Roar" was one of the biggest hits of last year, and it's been rewarded with two Grammy nominations: one for Best Pop Solo Performance, and one for Song of the Year. Should it win Song of the Year this Sunday night, the trophy will go to the people who wrote the song, which include Katy, of course, as well as her longtime collaborator, singer/songwriter Bonnie McKee . However, Bonnie says that she's not holding her breath, based on Katy's surprisingly poor track record at the Grammys.
So far, Katy's been nominated nine times, but has yet to win. Bonnie, who co-wrote many of the songs Katy's been nominated for, including "Teenage Dream," "California Gurls" and "Wide Awake," says that while she's thrilled that "Roar" has been nominated this year, she's beginning to think there may be some sort of bias against her and Katy's work.
"I don't know if it's something with the Grammys where, if something sells really well, that they feel like maybe that's enough, and that it doesn't deserve a Grammy, and that someone who sold lesser might deserve a Grammy more or something," Bonnie tells ABC News Radio, speaking about her and Katy's losing streak. "Like, we're almost punished for it being such a huge hit! [So] you know, I try not to get my hopes up too high."
Still, Bonnie is happy that, for the first time, one of her Katy Perry hits is up for Song of the Year, which means she gets to attend the Grammys as an actual nominee, and potential winner.
"I've always kind of weaseled my way in, because I technically my name hasn't been on the roster," she tells ABC News Radio. "You know, it's songs that I've written and songs that I've had a big part in, but unless it's Song of the Year, my name isn't on it." She laughs. "It's nice to finally like really belong, and really feel like I'm welcomed there and invited!"
Bonnie says she and Katy have already "congratulated each other" on the nominations for their song, and also "talked about what we're gonna wear." Asked if the two actually coordinate what they'll be rocking on the red carpet, she says yes and laughs, "I always send her pictures [of my outfits], and I'm like, 'Which one? What do I do?'"
While Bonnie says she knew that "Roar" would be a hit -- she says she felt the same way after writing it as she felt after writing "Teenage Dream" -- she didn't expect it to become such an anthem of self-empowerment.
"It's really touching," she says. "I mean that's why we do what we do, you know? We wanna touch people, and we wanna reach out and give them something to live to, and laugh to, and cry to, and be brave to. So...I'm really proud of it, and I think it's doing exactly what we set out to do."
Copyright 2014 ABC News Radio