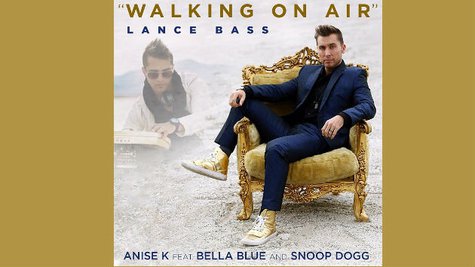 Last year, Justin Timberlake surprised many by returning to music. Now it's 2014, and that means it's time for another member of 'N SYNC to put out new music: Lance Bass .
Lance has released his first new music in 12 years, a song titled "Walking on Air." As E! reports , the song was originally released last year in a different version with a different vocalist. Written by producer and songwriter Anise K , it features Lance singing with a female vocalist named Bella Blue , and there's also a rap by Snoop Dogg . "Walking on Air" hits iTunes on Tuesday.
"For the last two years I've been listening to demos, just trying to figure out if I want to get back in the studio," Bass told E!, which has posted the song exclusively. "I hadn't heard anything that resonated with me. But a couple of months ago, a track from Anise K landed in my lap from a friend of mine and he was like, 'I think this will be your first song.'
Lance describes the song as a "fun dance track," and predicts it'll be remixed numerous times. He adds, however, that he has "zero plans" to perform the song onstage. "I'm going to release it and if people love it, hopefully it will climb the charts...I'm just going to play it by ear," he tells E!
Copyright 2014 ABC News Radio