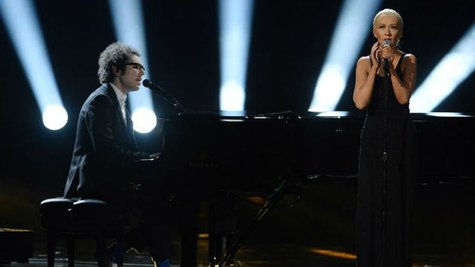 A Great Big World has made a great big splash on the Billboard album chart: their first album, Is There Anybody Out There? , debuted at #4. That's all thanks to the success of their smash single "Say Something," a unexpected collaboration with Christina Aguilera that, the duo says, changed their lives.
It all started with an email from "out of nowhere." A Great Big World's Ian Axel tells ABC News Radio that even though they hadn't even put it out as a single, the Fox show So You Think You Can Dance reached out to them and asked if they could use the original version of "Say Something" on the show.
"We sent it to them, it was on the show, [and] it made a bigger splash than everyone thought it would," says Ian. "Christina Aguilera called us up a week later. And our lives just instantly changed. It happened so fast."
In reality, Christina had sent A Great Big World's team an email describing her love of "Say Something" and her desire to record a new version of it, featuring her vocals. What was their reaction when they read the email? "My mind was spinning. I couldn't sleep," Ian tells ABC News Radio. "I was so excited, my anxiety went through the roof." Chad adds that Christina's email was so "beautiful" that they were overwhelmed by it.
"[She wrote] about the song and how much it was inspiring her and how she wanted to be a part of it," explains Chad. "She didn't wanna overpower the song. She wanted to let the song be exactly as it is already, and she just wanted to, like, add her own texture over it as a female vocal."
"And when we read that," Ian adds, "We were just, 'Let's do this! When? And it ended up being, 'In a week!'"
After the new version was recorded, A Great Big World and Christina performed the tune on The Voice , followed by the Victoria's Secret Fashion Show and the American Music Awards. "Say Something" quickly became a top 10 hit, something that Ian and Chad never expected from a tune that was inspired by their heartbreak over their respective relationships.
"There was this person in my life I thought was someone that they weren't," Ian reveals, explaining what was behind the song. "And then, I was too in it to see it, and I was holding on, and so stubborn. And I felt something and it made me feel alive, and I liked that feeling and I never felt it before. But I just got trapped in it, and it went on for way too long."
"I was in this place for, like, three years of my life," he reveals. "And after we wrote 'Say Something,' I was still in it."
Meanwhile, Chad had his own relationship problems, but they were similar to Ian's.
"I feel like, for both of us, we had, like, these made-up relationships in our heads," he tells ABC News Radio. "And I didn't realize I was as heartbroken as I was until we started writing 'Say Something.' But, yeah, I think it's so easy to feel like the ones you love, love you just the same. And it's so hard to, like, accept the fact that they might not."
At least Chad and Ian can now cry all the way to the bank, thanks to the success of Is There Anybody Out There? While the album officially debuted on the chart Wednesday, the guys knew that it'd be top 10 ahead of time, thanks to sales projections, and they're thrilled. 'It's our first album...it feels so lucky that that would even happen," says Chad.
Ian adds, "It's the biggest dream of ours, ever, to have these songs, as a group, connect to people. I mean, I feel as like we've been working our whole life to get this album out."
Copyright 2014 ABC News Radio