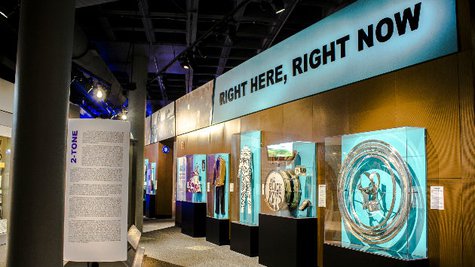 They haven't been around long enough to be inducted into the Rock and Roll Hall of Fame, but Rihanna, Bruno Mars, Katy Perry and Lady Gaga are all being celebrated by the Cleveland institution.
Those four artists, as well as Fall Out Boy, singer Grace Potter and rockers The Black Keys are part of a new exhibit at the Rock and Roll Hall of Fame called Right Here, Right Now, which celebrates today's popular music artists. The exhibit features personal items and clothing from each artist, and tells the artists' stories through interactive displays that allow visitors to both see and hear how they've made an impact in the last decade or so.
Among the items on display: the red and white pinwheel dress that Katy wore during her 2011 California Dreams tour; one of the outfits that Lady Gaga wore in the video for "Bad Romance"; the tux Bruno wore while performing "Runaway Baby" at the 2012 Grammy Awards; the ensemble Rihanna sported in the video for her 2009 song "Rude Boy"; and the clothes worn by Fall Out Boy in the Young Blood Chronicles , the series of 11 videos they made to accompany their latest album, Save Rock and Roll.
By the way, to be eligible for induction into the Rock and Roll Hall of Fame, you have to have released your first recording 25 years ago. Since all the artists in question released their first recordings in the first decade of the new millennium, they've got a ways to go.
Follow @ABCNewsRadio
Copyright 2014 ABC News Radio