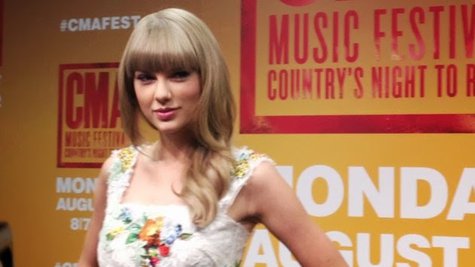 Taylor Swift is a great songwriter: that's a fact. But is her talent comparable to that of Michael Jackson ? According to one of her Grammy-winning pals, yes.
Taylor is good friends with actress Lena Dunham and her boyfriend, fun. guitarist Jack Antonoff ; she and Jack teamed up to write the Golden Globe-nominated song "Stranger than Fiction" from the movie One Chance . Now, in a new interview in GQ magazine, Jack compares Taylor to the late King of Pop.
"I think Taylor Swift is one of the best songwriters ever," Jack tells the magazine. "Taylor Swift is cool, because she's the closest thing today that hearkens to Michael Jackson -- to great, great pop music. There's a difference between her and Gaga and Katy Perry and Lily Allen and all that. It all feels throwaway, comparatively."
Jack also says he longs for the good ol' days -- back in the '90s -- when everyone seemed to like the same music, like grunge, for example.
"The world was a slightly better place -- we were a much more connected generation," he says of the days when Pearl Jam ruled the charts. "It's not like you can look at an 18-year-old and think, I know what he listens to . It's just so broad. There's a lot of junk. People have to spread out and find more interesting stuff, because they're not being fed it the way they're supposed to be."
Follow @ABCNewsRadio
Copyright 2014 ABC News Radio