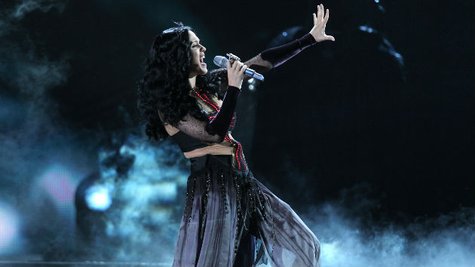 Katy Perry has never been known to hang out with the Kennedy family, but that didn't stop one man from breaking into the family's compound in Massachusetts in search of the singer.
WCVB-TV reports that James Lacroix , a 53-year-old disabled veteran from Cape Cod, Massachusetts, broke into the Hyannisport, Massachusetts home of Ted Kennedy Jr. on Tuesday. When police responded to the break-in, they found Lacroix sitting on a couch, reading a book and chatting with Kennedy's son. Lacroix, who apparently had been in the home for hours, told them he was looking for Katy Perry, and the late President John F. Kennedy , who once lived in the home.
"He was calm. He was very collected. He knew exactly what he was doing. He was not distressed. He was not that concerned that we were there," said Barnstable Police Chief Paul MacDonald , adding, "It was almost as though he was a friend of the family." In fact, Kennedy's son thought that Lacroix was a friend of the family.
Lacroix is being charged with breaking and entering and trespassing. His arraignment was delayed pending a mental evaluation.
Follow @ABCNewsRadio
Copyright 2014 ABC News Radio