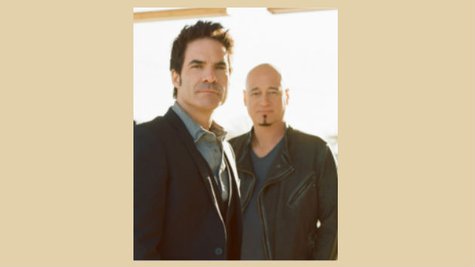 In their long career, Train has won three Grammys, performed all over the world and sold over 10 million albums worldwide. However, they still have a few goals they have yet to achieve -- like finally being cool, for example.
In Train frontman Pat Monahan 's most recent podcast , a regular interview series that he calls Patcast, he sat down with guitarist Jimmy Stafford -- the only other founding member of the band remaining -- and the other members of the group to discuss their experiences. When he asked Jimmy about his goals for their new album, Bulletproof Picasso , the guitarist replied, "Well, there's a few things that we haven't done...I think this record, you know, might even get us to that point. We've never really... been the cool band, the hip band, even from the beginning."
"We've never done Saturday Night Live , you know," Jimmy continued. "It'd be so great to do SNL ." "Yeah," Pat agreed. "That would be fun. Just to have done it."
Another thing on the band's bucket list? "We've never played Madison Square Garden," Jimmy says, referring to the legendary New York venue.
"We've played some amazing places around the world. We've even played in Wembley [Arena, in London], you know, like at a football halftime and stuff like that. But playing Madison Square Garden...man, that'd be so amazing!" he says. "So those are a couple things that would be great to achieve."
Bulletproof Picasso is due September 16. Train will be playing select dates throughout the summer, and then a series of special showcases in L.A., New York and San Francisco around album release time.
In a statement, Pat says of their new music, "I've always wanted to emotionally connect with people through the song, but I also want to get into people's lives with this album. We're very excited about Bulletproof Picasso and we're looking forward to performing some of the new songs for all our fans."
Follow @ABCNewsRadio
Copyright 2014 ABC News Radio