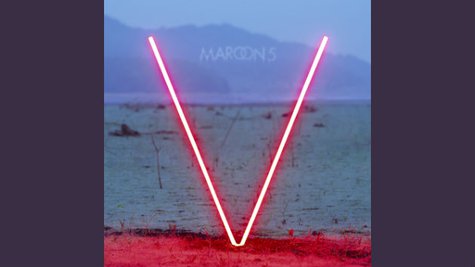 Maroon 5 has revealed the album artwork and the track listing for their fifth album, V, which is the Roman numeral for five. The album is due September 2.
The album cover features a shot of a desert landscape with a mountain in the background, and a big, pink neon "V" in the foreground. The band members themselves don't appear on the cover, but then again, they've only ever appeared on one of their album covers: 2007's It Won't Be Soon Before Long.
The track list includes "My Heart Is Open," a collaboration with Gwen Stefani , as well as songs called "Sugar," "Unkiss Me" and "New Love." A list of three "B-sides" includes "Lost Stars," from the soundtrack of the movie Begin Again , in which Adam Levine made his acting debut.
Here's the full track listing:
"Maps"
"Animals"
"It Was Always You"
"Unkiss Me"
"Sugar"
"Leaving California"
"In Your Pocket"
"New Love"
"Coming Back For You"
"Feelings"
"My Heart Is Open" ft. Gwen Stefani

B Sides:
"ShootLove"
"Sex and Candy"
"Lost Stars"
Follow @ABCNewsRadio Copyright 2014 ABC News Radio