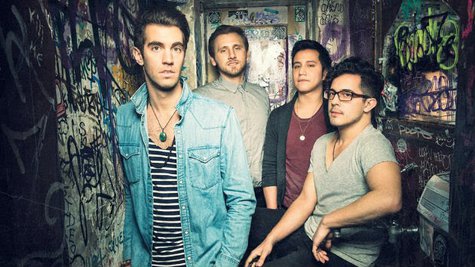 American Authors are opening for OneRepublic and The Script all summer, and since they're the first band of the night to take the stage, they've got their work cut out for them. But when they prepare for shows, they keep in mind the words of Bruce Springsteen -- or is it Coldplay ?
The band's frontman, Zac Barnett , tells ABC News Radio the band always puts in a "110-percent effort" into their shows because of something one, or both, of those acts said.
"We're big fans of Bruce Springsteen and also huge fans of Coldplay," he explains. "And I don't know who said it first..but they've both been quoted in the past (as) saying...when you go into a live show, you want to give the best show that you can possibly give -- because you don't know if this is someone's first concert ever, or if this is someone's last concert ever."
Barnett describes an American Authors performance as a "dynamic roller coaster, but on a shorter scale." He explains that they bring "pure energy" to their set, which he says includes both the band's favorite songs and the crowd's favorite songs. "Best Day of My Life" undoubtedly falls into both categories.
American Authors will continue their tour with OneRepublic and The Script through an August 12 date in Virginia. Two days later, they'll begin a European trek in Belgium.
Follow @ABCNewsRadio
Copyright 2014 ABC News Radio