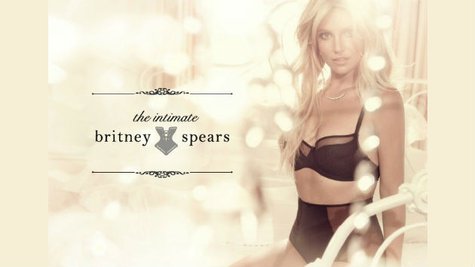 Britney Spears has a line of fragrances, but now she's branching out into clothing -- skimpy clothing. The Intimate Britney Spears , a new collection of sleepwear, loungewear and lingerie, will launch in September 9 in the U.S. in Canada, and September 26 in Europe.
Britney tweeted the news along with a photo of herself wearing a black bra and high-waisted panties, writing, "Coming very soon... The Intimate Collection, by yours truly. intimatebritneyspears.com Just a peek at what's to come. xo."
The collection, which will be launched by Britney at a New York City event, includes lingerie sets, bustiers, kimonos and relaxed loungewear, including jersey camisoles, shorts and sweats. The items feature detailing like crocheted edges, satin ribbons and lace trim. Prices range from $17 to $79, with sizes from A-J cups.
In addition to being available at IntimateBritneySpears.com, you'll be able to purchase the items at boutique retailers in the U.S. and Canada, as well as at Barenecessities.com.
In a statement, Britney says, "Every woman should feel confident and beautiful in everything she puts on. My vision for The Intimate Britney Spears is to create pieces that are sexy, luxurious, and comfortable at the same time. I am excited to introduce this collection because I feel that we accomplished exactly that."
Meanwhile, Britney is launching her 16th -- that's right, 16th -- fragrance, called Fantasy Stage Edition . It's her previously-released scent, Fantasy, in a limited-edition bottle, with a snakeskin outer coating inspired by Britney's legendary 2001 MTV VMA performance, during which she danced with an enormous python draped over her shoulders.
According to MTV , Britney said in a statement, "Fantasy Stage Edition represents my daring moments on stage, both past and present. I hope it motivates my fans to be fearless."
Follow @ABCNewsRadio Copyright 2014 ABC News Radio