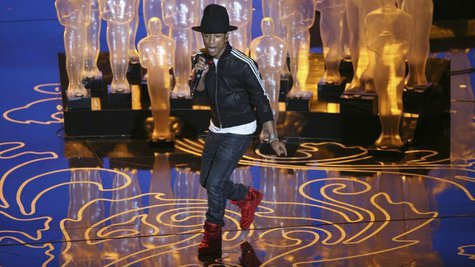 Pharrell Williams ' hit "Happy" may not be #1 anymore, but that doesn't mean it's any less popular. Here's the proof: according to Yahoo! Chart Watch, it's featured on not one but three albums in this week's top 10.
"Tacky," the parody of "Happy" that appears on "Weird Al" Yankovic's new album Mandatory Fun , leads the pack at #1. In at #4 is Kidz Bop 26, which features the Kidz Bop Kidz performing the song. Finally, Pharrell's original version is included on the compilation Now! 50 which is sitting at #8.
As for Pharrell's own album, G I R L, which also includes "Happy," it currently sits at #35. According to Yahoo!, the Oscar-nominated tune is about two weeks away from reaching the six-million mark in downloads.
Follow @ABCNewsRadio
Copyright 2014 ABC News Radio