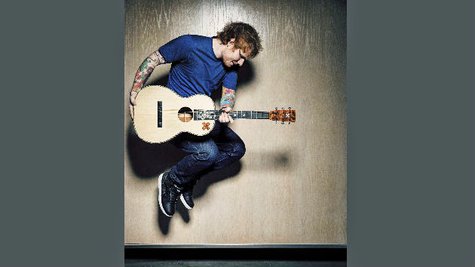 Ed Sheeran likes a drink now and then, and he admits that from time to time, he's definitely overindulged, both in alcohol and drugs. But he says there's nothing wrong with that: it's all just one big learning experience.
Speaking to the U.K. paper the Daily Mail, Ed says, " There have been a couple of times over the past few years [when I've gotten wasted], but it's not a regular thing. It happens when I'm under an immense amount of stress and pressure, and things just build up. But it's not as dark as people make out. It's educational."
How so? " It's not so much about temptation or peer pressure, it's just about being in situations and wanting to experience things, so that later on in life I can say, 'Well, I've done that, I've done this, I enjoyed that, this wasn't so much fun,'" he explains. "I'm not trying to rebel. I'm just doing what anyone would do at my age."
Of course, most people Ed's age aren't keeping the company that he keeps. He recalls to the Daily Mail , " 'I was at a [Oscar] party in Hollywood, and the first person I bumped into was Paul McCartney . We got chatting, although when you're in that situation you don't really know what to say, so you're just like, 'Hey man, how are you? Shall we get a drink? Yeah, let's get a drink.' We were interrupted, and I was a bit annoyed. Then I looked at the person who'd interrupted us and it was Prince ."
That same night, Ed recalls, he got drunk and ended up sitting next to Pink , babbling about how much he likes her music.
Ed, however, says he isn't stunned and shocked that he ends up in parties surrounded by megastars.

"I knew exactly why I was there," he says of that Oscar party. " I've worked my a** off. Regardless of whether my music is any good or not, I've really put in the hours."
Follow @ABCNewsRadio
Copyright 2014 ABC News Radio