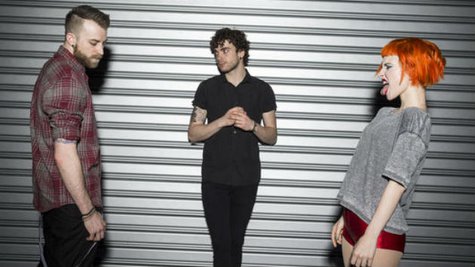 Paramore has been having a pretty good year: they scored a big hit with "Still Into You" and then singer Hayley Williams racked up another hit with "Stay the Night," her collaboration with Zedd . But Hayley says the runaway success of the band's current single, "Ain't It Fun," has taken the entire band by surprise.
"I don't think you should ever just assume that a single's gonna be your big hit, or be a success," Hayley told reporters during a conference call on Tuesday. "But this one, by far, has just shocked all of us." In fact, "Ain't It Fun" is Paramore's first-ever top 10 hit, climbing higher on the chart by far than any previous single by the band.
"This a song we took a huge risk on, and it was so much fun for us, and there's so much passion...I hope you can hear that," Hayley said, attempting to explain why that song has been their big breakout in terms of pop chart success "People connect to that sort of energy." She also feels that people are connecting with the song's lyrics, which are about getting a big dose of reality and having to suddenly make your own way in the world.
"I feel like the message is sarcastic but also inspiring enough for younger people who might be getting into the world for the first time on their own," Hayley explained. "I know it really helped me through a transitional phase in my life, so maybe it's also connecting with younger people in that way too."
Paramore is kicking off a joint tour with Fall Out Boy , the "Monumentour," later this month, and Hayley says she can't wait to do the funk-inflected song onstage, because it's her favorite to sing live.
"It's the kind of song that I've always wanted to sing in Paramore," she says. "I grew up listening to a lot of R&B and pop and soul and so it's kind of cool that we were able to write a song that sort of infuses a little bit of that energy into what we do as a band."
The "Monumentour" kicks off June 19 in Hartford, Connecticut.
Follow @ABCNewsRadio
Copyright 2014 ABC News Radio