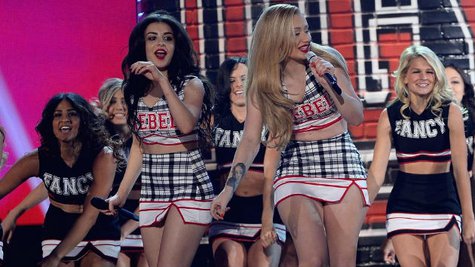 Iggy Azalea 's red-hot single "Fancy," featuring British singer Charli XCX , is spending a second week at #1 on the Billboard Hot 100 . While Iggy's originally from Australia, the rapper tells ABC News Radio that it was her adopted home -- the U.S. and specifically, the West Coast-- that inspired her to create the catchy tune.
"I just wanted to do a West Coast-sounding song because I live in L.A. and I hear so many of them. I love them," she tells ABC News Radio. "They're simple and catchy and they're amazing; but then I thought, 'You know what? I want to put a twist on it and I want it to kind of be two female voices and a 'girl record,' because I didn't hear any of them."
She adds, "All these West Coast-sounding beats out here were great, but it was all kind of like these guy, chanty songs for the boys...I'm like, 'I want something for the girls!'" That, she says, led her to collaborate with Charli XCX, who most of us last heard on Icona Pop 's 2013 girl anthem, "I Love It."
"I thought, 'Let me get Charli,'" she explains. "And I wanted to do, like, kind of an international twist on something really West Coast and make it slightly different, which is how 'Fancy' came about."
That West Coast feel is on display in full force in the song's clever video, which is essentially a remake of Clueless, featuring Iggy as Cher, the role originally played by Alicia Silverstone in the classic '90s movie. Iggy, who admits to being "obsessed" with the film as a kid growing up in Australia, says she's always wanted to remake it, and the video was her big chance to do so.
"I thought it would be appropriate for 'Fancy,' being that it is set in L.A., and Cher is a typical L.A. Valley Girl," she tells ABC News Radio. "And I wanted to do something to kinda throw a nod of recognition to the fact that it is a very L.A.-style beat, without being cliche, and I think that Clueless was the perfect opportunity to do that."
"Fancy" appears on Azalea's latest album, The New Classic , which sits at #10 on the Billboard 200 chart this week. Iggy is also featured on the #2 song in the country, Ariana Grande 's "Problem."
Follow @ABCNewsRadio
Copyright 2014 ABC News Radio