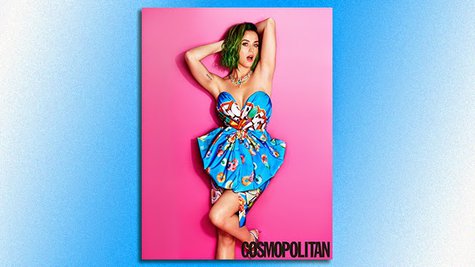 Despite a divorce from Russell Brand and breakup with John Mayer , Katy Perry hasn't given up on love, and she says she now knows what she really needs in a relationship: a guy who doesn't scare easily.
Speaking to Cosmopolitan magazine for its July issue -- whose cover she graces worldwide -- Katy says, "I like when I can really be myself, wear less makeup, have off-color humor right off the bat -- when I can scare them with the truth and they're not scared. I think when I'm myself is when I'm probably the most attractive to someone else."
As for being unlucky in love in the past, Katy isn't letting that bring her down. "Sometimes you have to go through all this [stuff] to get your grips on life. You have to go through the mud in order to find that peaceful place," she tells the magazine.
She's not looking back either: asked if she thinks she'll ever reunite with John Mayer, she says, "I'm living in the now and not fantasizing about the past…I have a lot of respect for [John] still, and I know it goes both ways."
"There's no bad blood," she adds of her relationship with the singer. "But I'm sure there will be inspired songs."
We predict that John won't mind, since he recently told TMZ that he wants any song that any of his exes write about him to "go to number one."
You can read the entire interview with Katy in Cosmopolitan, which is on stands now.
Follow @ABCNewsRadio
Copyright 2014 ABC News Radio