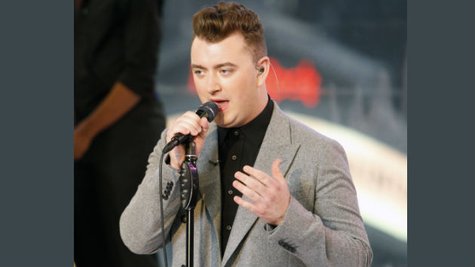 If you're a young British artist, you know you've really made it when you get the thumbs up from Elton John . That's something that rising British star Sam Smith experienced earlier this month -- though he wasn't aware of it at first.
According to Entertainment Weekly , while he was in New York City promoting his debut album In the Lonely Hour , which just entered the Billboard chart at #2, Sam noticed that he'd missed a call three days previously. "I finally listened to the voicemail, and it was some man going on and on about about much he loved the album," the singer recalls. "And then he said something like, 'This is Elton.'"
"And at first, I was like, 'Who is Elton?'" Sam continues. "Then, I realized, and I called him right back. I had the loveliest ten-minute conversation with Elton John!" No word on what the two talked about, but it might have been some advice about what to do when you finally make it in America, which Sam certainly has done. Not only is his album a big hit, but his single "Stay with Me" is a top 10 hit.
Speaking of "Stay with Me," OneRepublic 's Ryan Tedder appears to be a big fan of the tune. How do we know? He recently covered it in concert , as part of a medley with OneRepublic's first big hit "Apologize." Sam tweeted a link to a video of that performance, writing, "Wow. Thank you so much Ryan Tedder for covering stay with me!! YOUR VOICE!!!! Incredible."
Follow @ABCNewsRadio
Copyright 2014 ABC News Radio