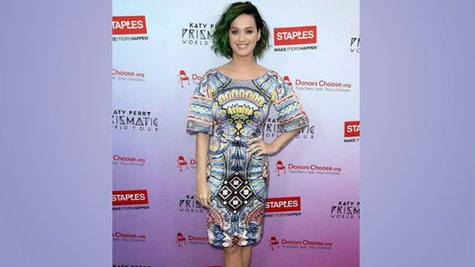 When Katy Perry goes on tour, she likes to take her band and crew to local attractions for some fun. She did just that on Thursday, when she took everyone on a trip to Dollywood , the theme park in Pigeon Forge, Tennessee owned by country music legend Dolly Parton .
A spokesperson for the theme park tells ABC News Radio that Katy, along with her dancers, friends and band members, rode the park's numerous roller coasters, including the Thunderhead, Tennessee Tornado and Wild Eagle; she rode that last one twice. She and the gang played carnival games and watched demonstrations of old-time crafts, such as candle-making and blacksmithing, and even dipped her own candle.
And what's a theme park without food? Katy and her guests chowed down at the park's eatery, Aunt Granny's Buffet, enjoying ice cream, funnel cake and cinnamon bread. They finished up their day, appropriately for Katy, by watching the park's nightly fireworks display. You can see photos of the singer enjoying all these activities on Dollywood's website.
Katy tweeted , "We just done tore up DOLLYWOOD'S turkey legs & had a helluva country bumpin time!" She also posted a link to her recent appearance on CMT Crossroads , featuring her and her buddy, country star Kacey Musgraves, duetting on one of Katy's favorite Dolly Parton songs, "Here You Come Again."
Katy performed in Nashville, Tennessee on Friday night.
Follow @ABCNewsRadio
Copyright 2014 ABC News Radio