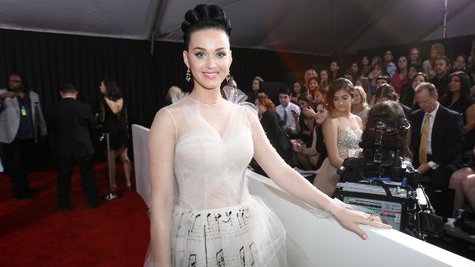 Last week, Katy Perry sent a tweet that got a lot of people's interest: she wrote that she'd just helped deliver a baby in someone's living room. Now, she's confirmed that the baby in question was, in fact, her sister Angela's , and she's now an aunt.
Speaking to the Australian radio station 2DayFM , Katy said, "My sister gave birth in her living room, and I got to be, kind of like an assistant doula [DOO-la], which is, [in] a home birth, just kinda there for support. And also, I was like Scorsese , getting in there, filming everything!"
A "doula," in case you're not aware, is a non-medical person who assists a woman before, during or after childbirth.
Katy continued, "My sister is a true rock star. She gave birth in her living room, without a single Advil!" Angela is Katy's older sister; she got married in 2012.
Asked if witnessing the baby's arrival made her want to have children of her own sooner or much later, Katy replied, "I don't know if I could do it her way, 'cause that was super intense, but my baby is gonna be super intense, because it's basically in the form of a tour for a year-and-a-half!"
Katy's Prismatic World Tour kicks off in May in Northern Ireland. It gets to North America in June, and then hits Australia in November.
Copyright 2014 ABC News Radio