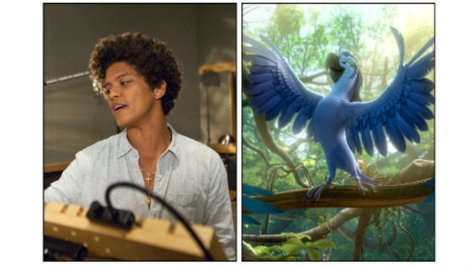 Not only does he make his voice acting debut in the upcoming animated film Rio 2, but Bruno Mars is also featured on the movie's soundtrack, which now has a release date.
Rio 2: Music from the Music Picture will arrive in stores March 25, and it features the song "Welcome Back," which is performed in the movie by Bruno as Roberto, the former boyfriend of the Anne Hathaway 's character Jewel.
Other artists on the soundtrack include Bruno's longtime musical collaborator Phillip Lawrence , as well as B.o.B , who teamed with Bruno on his first #1 hit "Nothin' on You." The soundtrack lineup also includes Janelle Monáe , Jamie Foxx, Kristin Chenoweth , former X Factor contestant Rachel Crow , Amy Heidemann of the pop duo Karmin and Siedah Garrett , who's probably best known for duetting with Michael Jackson on "I Just Can't Stop Lovin' You" and co-writing the King of Pop's classic "Man in the Mirror."
Will.i.am , who was in the original Rio, also returns for the sequel.
Rio 2 will be in theaters April 11.
Copyright 2014 ABC News Radio