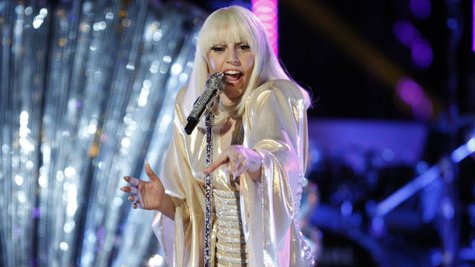 Lady Gaga's new video for her song "G.U.Y." has now been revealed to be the one she shot at California's historic Hearst Castle not long ago, and that features The Real Housewives of Beverly Hills among its cast.
Gaga offered fans a few glimpses of the clip on NBC's Today show Friday morning , revealing that it was "a very big production; we shot for six days." The clip premieres at 8 p.m. ET on Saturday.
Also on the show, Gaga also addressed the controversy surrounding her recent performance in Austin, Texas, during which so-called "vomit artist" Millie Brown , regurgitated colored liquids all over her. The performance has been criticized for, among other things, seeming to encourage bulimia, though Brown has denied this interpretation.
"I guess we weren't completely surprised" by the outcry, Gaga said on Today . "We both really believe in artistic expression and strong identities, and I support [Millie] in what she does. And ARTPOP , my new album, is about bringing art and music together in the spirit of creative rebellion...for us, that performance was art in its purest form. But we totally understand that some people won't be into it."
As for whether or not she and Brown wanted the controversy, Gaga explained, "It doesn't really matter. We don't make things for any intention other than in the spirit of entertaining the crowd and creating something that is really for the moment and it wasn't meant for the Today show. It was meant for a club performance in Austin, and we had a great time."
The singer also said that if she weren't famous, she'd still be doing the same kind of music and the same kind of show, "I'd just be doing it on the Lower East Side," she added. As for the possibility that she might one day retire, Gaga said, "I'm not sure. I will let the winds of life take me where they may. I really love my fans and want to continue making music for them; I'm already making new music."
Copyright 2014 ABC News Radio
Visit NBCNews.com for breaking news , world news , and news about the economy