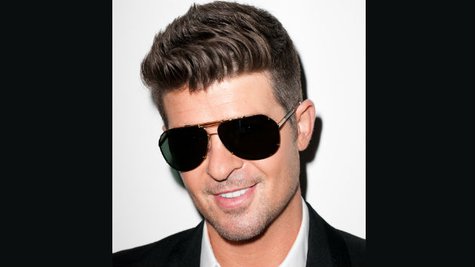 Robin Thicke has been tapped to help celebrate the grand opening of global retailer Express and its largest location in Times Square, which takes place next week.

The crooner will give a live performance in honor of the U.S. specialty retail apparel chain on Tuesday, March 25 at 7 p.m. ET. during an upcoming four-hour event which be stream live on billboards outside the store.
"It's EXPRESS on steroids," said Michael Weiss , Express ' chairman and chief executive officer. "Our billboard, with 9,000 square feet of LED, is the biggest and highest-definition billboard in the whole of Times Square. You know nobody whispers in Times Square; they shout. And if you're going to shout, you'd better be the loudest."
Visitors will not only be able to check out the new, 28,00-square foot store, but they also can enter to win various prizes, while loyalty members of the chain will receive access to a meet-and-greet with Robin . Fans can f ollow the official event hash tag #EXPNYC for updates.
Copyright 2014 ABC News Radio