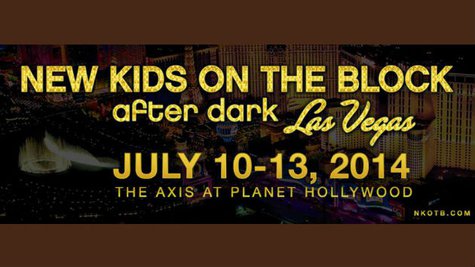 Britney Spears has an ongoing residency at the AXIS theater at Planet Hollywood Resort & Casino in Las Vegas, but she's not there all the time. This summer, New Kids on the Block will be stepping up for a mini-residency at the same venue.
The group will perform a special four-night series of shows at the AXIS from July 10 through July 13. They're the first artist to do an extended run there since Britney's show kicked off this past December. It'll be New Kids' only North American appearance this year. But much more than simply concerts are involved: the guys are planning a whole weekend full of fun activities.
During their time in Vegas, NKOTB will be hosting private daytime pool parties, late-night after-parties, and other one-of-a-kind experiences for fans. Bachelorette party packages will also be available. Tickets go on sale April 4 at 10 a.m. PT via Ticketmaster, and exclusive VIP packages, featuring meet-and-greets and photo ops with the guys, will be available at NKOTB.com .
"The band has been focusing on all sorts of solo projects and now prepping for our European tour, but we knew we wanted to do something special stateside for 2014," says Donnie Wahlberg in a statement. "We knew we had a limited time block where we could do something fun and we knew we had to make it memorable! What better place than Vegas?"
Donnie adds, "We'll be up all day and all night for the whole weekend with our fans and friends. It's central enough to everyone in the country; North, South, East and West can all converge on Sin City with NKOTB. And we will certainly make it worth their while!'"
Copyright 2014 ABC News Radio