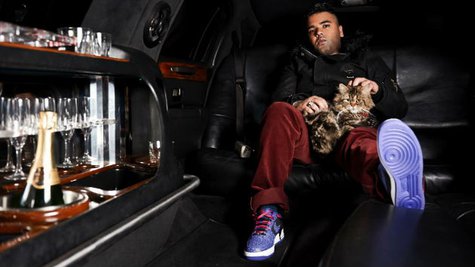 When it comes to artists from overseas who don't go by their birth names, you've got Lorde , Gotye , Passenger and now, you can add Naughty Boy to the list.
Born Shahid Khan , the British-Pakistani songwriter and producer made a name for himself in the U.K. thanks to his work with, among others, Emeli Sandé. He's also worked on material for Rihanna , Leona Lewis , Fantasia and Taio Cruz. Now, he's rising up the U.S. chart with his song "La La La," featuring vocals by British singer Sam Smith . The song, with its distinctive "la la na na" chorus sampled from a Bollywood song, hit #1 in the U.K., and its unique sound helps it stand out in the U.S.
"There's nothing quite like 'La La La' on the radio here," Naughty Boy tells ABC News Radio. "And I want to be a pioneer...especially coming from England, especially to have a Pakistani background...my parents came to England as immigrants in the seventies, and I come from a different place, so I have to do something different. So 'La La La' is that."
Explaining what inspired "La La La," Naughty Boy says that particular part of the song "sounded like covering your ears like a kid, but if you're an adult." "Then it needed a concept," he adds, "And I thought, 'Why would an adult cover their ears? Maybe their heart was getting broken.' So, it's kinda like a love song, but it's still got an uplifting vibe."
He compares the track thematically to No Doubt 's "Don't Speak." "If someone's telling you something painful, you don't want to hear it, so you put your fingers in your ears and go 'la la la.'"
"La La La" is from Naughty Boy's debut album Hotel Cabana , which also features vocals from Emeli Sandé , Ed Sheeran , Wiz Khalifa and Dan Smith , the lead singer of Bastille. While he wants the album to do well, he's not so interested in becoming a star himself.
"I really want my music and ideas to be famous," he tells ABC News Radio. "Even in the U.K., in my videos, I don't really show my face much. You know, I don't do many interviews at all, so it's good to have a different approach to fame." Of course, having his music become famous in America would be a dream come true for the producer, who launched his career with $80,000 he won by appearing on the British version of Deal or No Deal.
" It's definitely a big goal. America's like a whole world in itself," he says. "I mean, I've had a lot of success around the world, but you still feel a bit incomplete unless you kind of get America -- not in a greedy way but...it's one of those places where you've heard so much music come from, so you kinda want to be a part of it as well, y'know?"
Copyright 2014 ABC News Radio