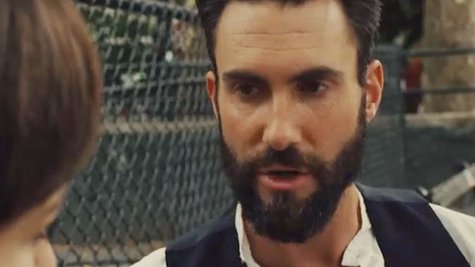 Can Adam Levine act? Finally, we can find out -- at least a little bit -- thanks to the new trailer for his upcoming movie debut Begin Again.
The trailer for the film, previously called Can a Song Save Your Life? , premiered Friday morning on NBC's Today , and in it, we see Adam as a musician named Dave, breaking up with his girlfriend, played by Keira Knightley , when he finds fame and fortune. But she has the last laugh: singing a song about her heartbreak in a club, she's spotted by a washed-up record executive, played by Mark Ruffalo , who's determined to make her a star. Soon, he has her recording an album all over New York City: on rooftops, in Central Park and on subway platforms.
Eventually, Adam as Dave comes crawling back -- now sporting a bushy beard -- and tells Keira's character, "If I could somehow do anything that would undo what I did to us, just tell me what it is." "I think everything's changed," she shoots back. "Nice beard, you loser," snarks one of Keira's producers...though not to Adam's face, of course.
Cee Lo Green also pops up in the movie, apparently as comic relief. He appears to portray a musician who has a guy following him around jotting down all his amazing lyrics. "Waiting for the next move, anticipating the next groove, and the road is long, and you're only as strong as your next move," he tells Ruffalo's character, before turning to one of his lackeys and asking, "Yo, Fat Jimmy, did you get that down? 'Cause that was exceptionally good!"
Begin Again, featuring music written, not by Adam, but by Gregg Alexander of the '90s group The New Radicals, hits theaters July 4.
Copyright 2014 ABC News Radio