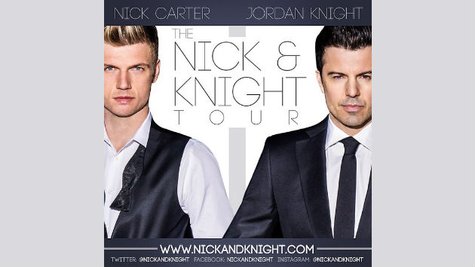 There are ten guys altogether in Backstreet Boys and New Kids on the Block, but only two of them -- Nick Carter and Jordan Knight -- have decided to team up and record and tour as a duo. Why have this Boy and this New Kid chosen to work together? Turns out they go way, way back.
"When we were doing the NKOTBSB tour together, we gravitated towards one another," Nick tells ABC News Radio about his newly-announced collaboration with Jordan. "I mean, when we were onstage, when we were performing, y'know, we like the same music, we have the same style, we dance similarly. So it was a lot of similarities." But "way before that," Nick adds, "I had met Jordan down in Orlando, and we had been writing music way before NKOTBSB even became anything."
So they've got history on their side, but Jordan says they also wanted to please their legions of devoted fans. "W hen we were on the NKOTBSB tour, we talked about touring together. We always kind of threw the idea around," he tells ABC News Radio. "And then when push came to shove, when we actually wanted to do it, we said, 'Why don't we do a musical project and make it even more special for the fans?' So that's how we came up with the idea."
Nick & Knight will release their debut album September 2, and hit the road for a tour September 15. Will that tour include the guys performing the hits that made them famous? Yes, to some extent, says Nick.
"What we have done in the past with Backstreet Boys and New Kids has been extraordinary and we want to definitely give the fans a little something," he explains. "So maybe put, like, a song or two of each group and maybe do a mash-up or something; something like that."
While they're waiting for that tour to kick off, Backstreet fans will be getting all the hits they want this summer, because Nick and the entire group begin an extensive tour this weekend. "We've been on the road forever for the last two years, just taking care of our fans," he tells ABC News Radio. "It's all about putting on a great show, making sure the production's tip-top, making sure you give them the hits they want to hear [and] at the same time entertain yourselves."
But what about those recent comments by 'N SYNC 's Joey Fatone , who seemingly dissed Backstreet by accusing them of going on the road because they need the money? Nick responded on Twitter by writing , "Just disappointed, I really liked joey...Sorry bro but you have us all wrong." But Nick tells ABC News Radio that he's actually spoken to Joey about his ill-advised comments.
"I screamed at him. He screamed at me. No, I'm just joking. He's got dry humor," Nick laughs. "That's who he is and I knew it, and I kind of played off of it a little bit," he says. "I mean, there was a little bit of truth to what I was saying [in my tweet], but he got it and I got it and then we were cool afterwards...we had a long conversation and so we're good. Everything's great."
OK, then let's move on to Ed Sheeran , who was recently quoted by a British tabloid as criticizing Backstreet for not playing enough of their hits in concert. "The Backstreet Boys, what are they doing? Play your hits...if you're a pop star play your pop songs," the paper quoted him as saying. What does Nick say to that?
"We're really excited that such a fantastic writer and producer wants to talk about us. I mean, that's awesome. You know, that's great," Nick says with way more than just a hint of sarcasm. "He cares that much about what we do in our show. So, you know, if he has any advice or any suggestions to help with our show, we would be open to that. We love you Ed. Thank you."
Copyright 2014 ABC News Radio