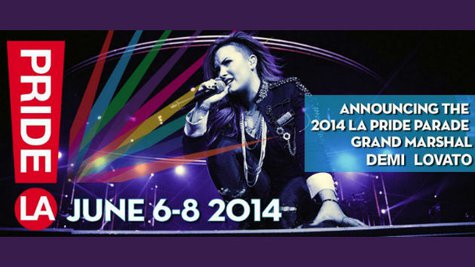 Demi Lovato has been a big supporter of the gay community, and now she's going bi-coastal with that support.
On June 8, Demi will serve as Grand Marshal of this year's L.A. PRIDE Parade on June 8 in Los Angeles. Then, on June 29, she'll perform at New York City's Dance on the Pier, another major annual gay pride event.
"It's such an honor to be a part of both L.A. and N.Y.C. PRIDE celebrations this year," says Demi in a statement. "I have been an active advocate of the LGBT community and am wholly committed to supporting individuality and being comfortable in one's own skin. I am thrilled to be a part of both events as they are a wonderful celebration of independence and self-confidence."
In a statement, one of the producers of L.A. PRIDE, said, "Demi Lovato is an amazing role model for today's youth, both LGBT and non-LGBT, for her activism in the area of equality, positive messaging on body image and level of openness with her struggles. As a community, we're fortunate to have an ally like Demi."
Visit LAPride.org for more information.
Copyright 2014 ABC News Radio