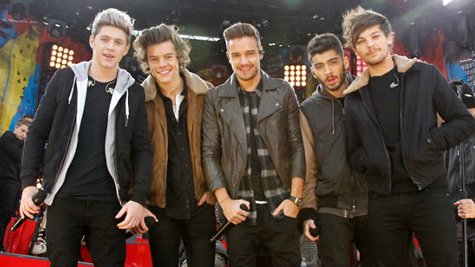 In addition to recording and touring the world non-stop, One Direction has also given money and time to charity. In fact, according to the Sunday Times ' Annual Giving List, which surveys which U.K. residents are the most generous when it comes to philanthropy, the band is among the top three most charitable musical acts in Britain.
According to the Times , One Direction is the second most generous music artist on the list, contributing $3.54 million to various causes over the past year. That includes money they raised for the British charity Comic Relief through the release of a single, and the money they raised for an anti-bullying campaign in the U.S. through sales of branded school supplies.
Elton John tops the list, though: he's directly raised or given more than $40 million in the past year, including raising more than $23 million alone for his AIDS foundations in the U.K. and the U.S.
The members of Coldplay are third on the list of most charitable musicians, donating just under $440,000 to Sport Relief, another British charity. Their foundation, meanwhile, also made donations of about $3 million. Coldplay frontman Chris Martin himself, along with soon-to-be-ex-wife Gwyneth Paltrow , independently donated just over $2 million to help children's and educational charities.
Copyright 2014 ABC News Radio