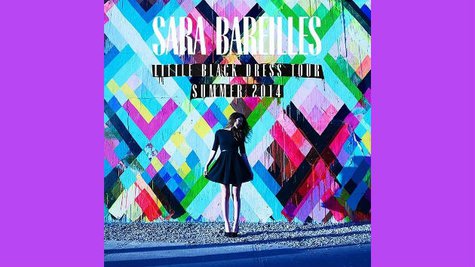 As promised, Sara Bareilles has revealed the dates for her upcoming summer tour, which she's dubbed the Little Black Dress tour.
The trek kicks off July 10 at Chicago's Chicago Theater, and will run through August 14, wrapping up in Berkley, California. Tickets go on sale May 9 to the general public, though fans will have access to a presale starting Tuesday at 10 a.m. local time via Sara's Twitter account .
Sara continues to support her Grammy-nominated album The Blessed Unrest , which has spun off the hits "Brave" and "I Choose You."
Speaking of "I Choose You," Sara has just unveiled the video for the track, in which she helped two real-life couples propose: Matt and Chelsea , and Aly and Andrea . Matt creates elaborate dioramas of Post-It notes for his proposal, while Andrea paints posters and strings up lanterns to set the scene for hers. We see Sara arriving separately at Matt's and Andrea's houses for the big moments. Then, we see Matt leading a blindfolded Chelsea, and a pal leading a blindfolded Aly, to the scene.
Next, Matt takes Chelsea through the dioramas, while Andrea leads Aly through the posters she's created. Then, Sara is revealed at both locations, standing with her guitar, and Chelsea and Aly freak out. Matt drops to one knee with a ring; a tearful Chelsea says, "Yes." Meanwhile, Andrea unveils a series of posters that say, "Will you marry me?" and then drops to one knee, holding out a ring. A tearful Aly also accepts...of course.
Here are Sara's tour dates:
7/10 -- Chicago, IL, Chicago Theater
7/11 -- Cleveland, OH, Jacob's Pavilion
7/12 -- Charlottesville, VA, nTelos Wireless Pavilion
7/14 -- Vienna, VA, Wolf Trap
7/15 -- Boston, MA, Blue Hills Bank Pavilion
7/16 -- Philadelphia, PA, Mann Music Center
7/19 -- New York, NY, Theater at MSG
7/20 -- Lewiston, NY, Artpark
7/22 -- Raleigh, NC, Red Hat
7/23 -- Atlanta, GA, Chastain Park
7/25 -- Hollywood, Florida, Seminole Hard Rock Casino
7/26 -- St. Augustine, FL, St. Augustine Amphitheater
7/28 -- Charlotte, NC, Time Warner Amphitheater
7/29 -- Cincinnati, OH, PNC Pavilion
7/30 -- Nashville, TN, Woods at Fontanell
8/1 -- Lincoln, NE, Pinewood Bowl
8/2 -- Littleton, CO Denver BotanicalGardens - Chatfield
8/3 -- Salt Lake City, UT, Salt Air
8/5 -- Seattle, WA, Marymoor Park
8/6 -- Portland, OR, Edgefield
8/8 -- Reno, NV, Silver Legacy Casino
8/9 -- San Diego, CA, OAT
8/11 -- Los Angeles, CA, Greek Theater
8/14 -- Berkeley, CA, Greek Theater
Copyright 2014 ABC News Radio