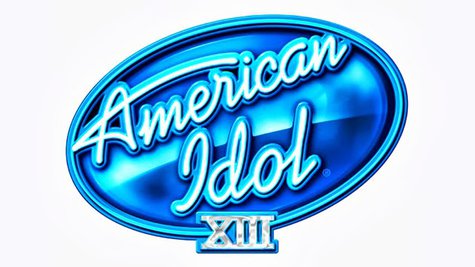 Love was in the air Wednesday night on American Idol, as the top four performed a "breakup" song, a "dedication" tune, and a "makeup" track.
Jennifer Lopez , Harry Connick, Jr. , and Keith Urban were there to offer their expertise to the contestants.
Here's what happened during the two-hour show:
Caleb Johnson opened the "breakup" round by belting out a Bon Jovi classic, "You Give Love A Bad Name." At one point, he walked over to Keith, put his arm around the judge, and sang directly to him. It was kind of odd, since Keith is happily married to Nicole Kidman . In any event, Keith loved the performance, especially its conclusion, telling Caleb, "You took it to your own place." Harry complimented Caleb on his signature "lick," but advised him to come up with other ad-libs that will come in handy when he goes on the Idol tour.
Jessica Meuse tackled "Since U Been Gone," by original American Idol winner Kelly Clarkson . Jennifer said she didn't think it was the best song choice, but she did "feel" Jessica more in this performance than in previous weeks. Harry added that Jessica needs to do something to heighten the performance. Keith encouraged her to pull out all the stops.
Alex Preston played the Alex Clare hit "Too Close" on his acoustic guitar. Keith suggested that Alex needs to show more command of his vocals. Jennifer questioned whether it was the type of performance that can win the competition.
Jena Irene took on Pat Benatar 's "Heartbreaker." Keith said he didn't feel a full, energetic commitment from Jena. J-Lo disagreed, saying she can detect more confidence in Jena. Harry told Jena to take her shoes off, jump around and let loose. To demonstrate what Harry was talking about, J-Lo strutted around, to the delight of the studio audience.
For his dedication song, Caleb selected Creedence Clearwater Revival 's "Travellin' Band," which went out to his band back home in Asheville, North Carolina. Jennifer said Caleb will be tough to beat. Keith noted that mentor Randy Jackson was really into the performance.
Jessica covered Pink 's "So What," which she dedicated to people who didn't believe in her. All of the judges thought the song choice fell flat.
Jena sang the Lady Gaga single "Bad Romance." Keith liked the way she changed the melody of the chorus. Jennifer said Jena gave Caleb a run for his money in terms of delivering a big performance. Harry said it was "really strong."
Alex dedicated the Jason Mraz hit "I'm Yours" to his girlfriend. Harry wished Alex had put more of his own spin on the song. Keith thought Alex seemed more comfortable during the final eight bars.
The "makeup" round began with Caleb singing Paul McCartney 's "Maybe I'm Amazed." Harry said it was nice to hear Caleb singing softly, and that his rendition was "phenomenal." Keith said his wife was probably going crazy because "Maybe I'm Amazed" is one of her favorite songs. Jennifer declared it was probably Caleb's best performance to date.
Jessica picked another Lady Gaga song, "You and I." Keith called it the perfect song for her. J-Lo said it was what the judges had been waiting for all night. Harry said after receiving negative feedback earlier in the show, Jessica came out swinging and "killed it."
Jena turned back the clock by playing Elvis Presley 's "Can't Help Falling in Love" on the piano. Afterward, Jennifer walked up to her and gave her a hug and kiss. She said it was the first time she's ever reacted to a contestant in that way. J-Lo marveled at the way Jena reinvented the song, saying she was nearly brought to tears. Harry stated it was a courageous performance. Keith told Jena she's so unique that she's like a "musical platypus." Jena revealed the performance was dedicated to her mom, in honor of Mother's Day.
Alex tackled the early Coldplay single "Yellow." Harry said Alex really needed a performance like that one. Keith added that the song suited Alex well. Jennifer said he sang it beautifully.
One of these contestants will be sent home on Thursday night's results show, airing on Fox at 9 p.m. Eastern time.
By the way, Ryan Seacrest announced that auditions for season 14 are scheduled for this summer in cities like Minneapolis, New Orleans and Nashville. You can read the details at AmericanIdol.com .
Copyright 2014 ABC News Radio