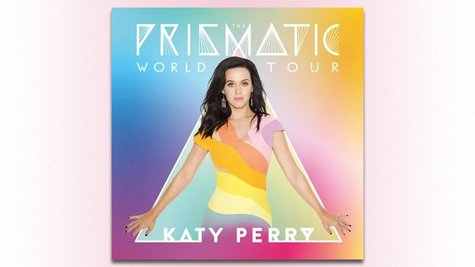 Katy Perry kicked off her Prismatic World Tour Wednesday night in Belfast, Northern Ireland, with a show that included numerous eye-popping costumes, most of the songs from her new album PRISM and even a cover of Madonna 's "Vogue."

Katy performed a mash-up of "Vogue" and her PRISM tune "International Smile" midway through her set at Belfast's Odyssey Arena. She opened with "Roar" and closed with a performance of "Firework." The pop diva's costumes included a Cats -like leotard in pink and a Cleopatra outfit. The dazzling show even included an animatronic horse that Perry rode out on for her song "Dark Horse."
The Belfast Telegraph reports at one point during the show, Katy scanned the fan-made signs in the audience and joked, "Don't make me cry my false eyelashes off."
Katy has a second show scheduled for Thursday night at the Odyssey Arena before she moves on to Newcastle, England, for a concert this Saturday. Icona Pop is opening for Katy on all of her UK dates.

The Prismatic World Tour hits the U.S. June 22 with a show in Raleigh, North Carolina, and wraps up its U.S. leg October 11 in Houston before heading to Mexico and Australia.

Earlier in the day, Katy posted her set list and the themes for each part of her Belfast show on Instagram . Here's the list:

Prismatic:
"Roar"
"Part of Me"
"Wide Awake"
"This Moment"/"Love Me"

Egyptian:
"Dark Horse"
"E.T."
"Legendary Lovers"
"Kissed A Girl"

Cat-Cure:
"Hot N Cold"
"International Smile"/"Vogue"

Acoustic:
"By the Grace of God"
"The One That Got Away"
"Double Rainbow"/"Ghost"
"Unconditionally"

Throwback:
"Megamix Dance Party"
"Walking On Air"
"It Takes 2"
"This Is How We Do"/"Last Friday Night (T.G.I.F.)"

Hyper Neon:
"Teenage Dream"
"California Gurls"
"Birthday"

Encore:
"Firework"
Copyright 2014 ABC News Radio