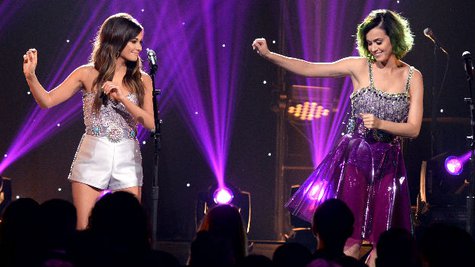 One of the opening acts for Katy Perry 's upcoming Prismatic World Tour is country star Kacey Musgraves . The two singers just got together in L.A. to tape a June 13 episode of CMT Crossroads, the series that pairs pop and rock stars with country stars, and we've got details on what fans can expect from the collaboration.
During the one-hour show, which marks the 50th installment of the series, you'll see Katy and Kacey perform Katy's hits "Roar" and "Teenage Dream," as well as Kacey's hits "Follow Your Arrow" and "Merry Go 'Round." They'll also tell anecdotes about their music and their lives, and discuss their lyrics. The show will air June 13 at 10 p.m. ET/PT on CMT, and on VH1, MTV, MTV Hits, and Palladia. Dates and times for the non-CMT airings will be announced later.
Katy's Prismatic tour leg with Kacey launches in the U.S. on June 22 in Raleigh, North Carolina.
Follow @ABCNewsRadio
Copyright 2014 ABC News Radio