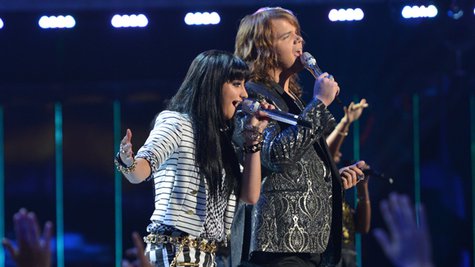 Tonight's a big night for American Idol runner-up Jena Irene . She will be going to her high school prom near her hometown of Farmington Hills, Michigan. Her date: the contestant she lost to on last week's American Idol finale, Caleb Johnson .
Earlier in the day, Jena was in New York, where she explained to ABC News Radio why she invited Caleb to the dance. She recalls that weeks ago, as she and Caleb grew close, her mom encouraged Caleb to escort her daughter to the prom. Caleb agreed, but Jena assumed the whole thing was a joke. Then, she says, "[A]s the date got closer, I was like, 'Wait, I don't have a date, and I think I can go. Do you wanna go?' He's like, 'Yeah, I thought you were serious!'"
Jena and Caleb are going to the prom strictly as friends. She describes Caleb as a big brother to her, saying, "He's like the funniest guy I know and it's so easy to be yourself around him, so that's why I kind of was clinging to him initially."
The 17-year-old adds, "I'm extremely excited, and I think all of my friends are going to like him, too."
Jena's prom experience should be a positive one, especially in light of what happened to her a year ago. She tells ABC News Radio she was supposed to go to prom last year but a "mean guy" cheated on her. She saved the white dress she was going to show off at that dance, and she may wear it tonight.
Jena's prom is being held one week after she was named the runner-up of American Idol 's 13th season, but she's not disappointed she didn't win the competition. As she puts it, "I was hoping for top five, so to get top two was a dream come true. I did not think I was going to get this far."
Jena notes that she had the opportunity to perform with her favorite band, Paramore , on the finale, too. She said the band was very kind to her, and offered her advice on how to succeed in the music biz.
You can see Jena, Caleb and their fellow finalists in person when they embark on the American Idol Live! tour this summer.
Follow @ABCNewsRadio Copyright 2014 ABC News Radio