« Shows & Personalities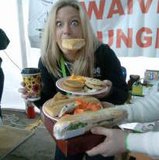 Abby
On Air:

Sunday, 8am - 2pm
Hey all,

Spend your Sunday's with me and I'll get you ready for the top 40 countdown and Open House Party!

Anyway, here are a couple questions we asked Abby to get to know her a little better!

What color are your eyes? Green

Favorite color? Pink, no doubt!

Cats or Dogs? DOGS!!!