« Shows & Personalities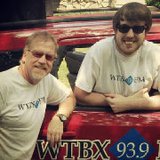 The Early Morning Show
On Air:

Weekdays, 6am - 9am

Hosts:

Craig, The Kid
About the Show

The Early Morning Show with Craig & The Kid is the best way to wake up and get the whole family's day started. The latest news,sports,and weather, plus all the daily contests along with the weird and funny news of the day.

Tune in for Early Morning Trivia, The Subway Song of the day, The 7:35 Prize Thing, Papa Murphy's 5 second rule.

Show Hosts

Craig

Craig's Favorite Things:

Passtime: Anything outdoors, paddling, hiking, cross-country skiing.

Movies: I would rather read the book, it's always better!

Songs: John Denver Rocks!

Food: Never Miss a Free Meal.

Quote: If I'm not Crazy am I Sane?

The Kid

Originally, I'm from Wheaton, Illinois but to most people outside of Illinois I just say I'm from Chicago! Where I'm from I've been known as SasQuatch and The Gentle Giant. I am 6' 8" while wearing shoes and on a good posture day. I've been told my shoes resemble kayaks and can be used in case of an emergency such as a flood. People 'round Radio Ranch call me "The Kid" and I'm on with Craig every morning from 6-9am on 93.9FM!