« Shows & Personalities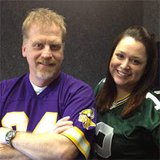 The Early Morning Show
On Air:

Weekdays, 6am - 9am

Hosts:

Craig, Rachel
About the Show

The Early Morning Show with Craig and Rachel is the best way to wake up and get the whole family's day started. The latest news,sports,and weather, plus all the daily contests along with the weird and funny news of the day.

Tune in for Early Morning Trivia, The Subway Song of the day, The 7:35 Prize Thing, Papa Murphy's 5 second rule and Rachel's Star Rumors!

Show Hosts

Craig

Craig's Favorite Things:

Passtime: Anything outdoors, paddling, hiking, cross-country skiing.

Movies: I would rather read the book, it's always better!

Songs: John Denver Rocks!

Food: Never Miss a Free Meal.

Quote: If I'm not Crazy am I Sane?

Rachel

It's great to wake up in the Northlands!

It may be a little earlier than I'm used to (okay....a lot earlier), but I can do it as long as you join us on the Early Morning Show. Craig and I have everything you need to get your day going!

I'm big into watching movies and TV (thank you DVR!), also enjoy reading, sports and all types of music. I may or may not also have a guilty pleasure of digging into celebrity news.

Check out my blog Rachel's Wrap-Up and tune into the Early Morning Show everyday for Rachel's Star Rumors.